Autonomous Crop Treatment Vehicle
One way to reduce agrochemical use is through spatially selective operation; a map of the variability within a field is used to decide how to selectively treat areas of typically 5 m by 5 m resolution from a tractor equipped with GPS. We proposed an alternative but complementary approach based upon real time detection of targets, be they crop or weed. This allowed a much finer resolution, down to individual plants, and required little prior knowledge of the field except an estimate of planting geometry. We named this concept plant scale husbandry, and chose as an example task the selective application of chemical to a transplanted cauliflower crop.
Highly targeted individual plant scale operations may be too slow for manned vehicles. We therefore developed an autonomous vehicle as a platform for experimental plant scale operation. A treatment device consisted of an array of solenoid operated nozzles at 50 mm pitch. Selective treatment was achieved by switching each individual nozzle on or off as the vehicle progressed through the crop.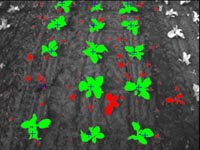 The planting pattern of the crop, imaged by a vehicle mounted camera, was tracked using an extended Kalman filter. To allow for reliable navigation, including headland turns, the Kalman filter also integrated odometric and inertial sensor data. In addition to providing guidance information, tracking the crop pattern allowed the discrimination of crop – which matched the planting pattern – from weeds which did not.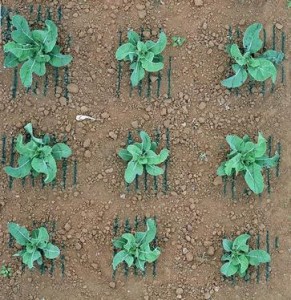 As the vehicle progressed along the row, the results of crop / weed classification were accumulated over several views of each area of ground. The local treatment map constructed was used to select spray nozzles to give selective treatment – in this example, crop plants were treated whilst avoiding weeds.
This project was funded by The Douglas Bomford Trust and the BBSRC.  Click on this link to see a 35 second 3MB Windows Media File format video of the autonomous vehicle in action.