Low Tunnel Hoop Benders Extend the growing season for cold-hardy crops with a very late season harvest or overwinter them for earliest possible Spring harvest. These units quickly creates low tunnel hoops out of galvanized electrical conduit (EMT) to withstand brutal fall winds and heavy winter snow loads. 1/2″ conduit is recommended for most applications, and can be purchased at your local home improvement store or electrical supply house in 10 ft lengths.
The benders will also bend 3/4″, or even 1″ conduit, which can be used to provide extra strength for tunnel ends. The Benders comes in 4- or 6-ft wide configurations, so Quick Hoops can span one or two beds at a time. They mounts to any solid surface, such as the corner of a shop workbench, a picnic table, hay wagon, etc. or, to your farm truck's receiver using our the optional hitch mount, for convenience and portability. When frost is expected, Quick Hoops are installed over the beds by inserting them into the soil about 10″ and then covered with spun-bonded row cover; 10 – 15 ft widths are recommended.
When real winter threatens, the row cover is then topped with UV resistant plastic greenhouse cover. Covers are usually secured with sand bags or some other type of weight placed at the edge of each hoop. The package Includes curved bender, lever bar (for "finishing" the bend) with removable inserts to accommodate 1/2″, 3/4″ or 1″ electrical conduit, and detailed instructions. Note: You can over-winter crops in the field using these tunnels…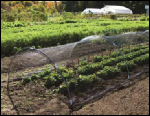 Other uses: Use during the summer with shade cloth (30%) to grow better lettuces, chard and spinach, to protect the leaves from scorch and over heating. The manual is or will be available online in the Tool Library section of the web site together with a video and the units should be on the ground here in the Kootenays by the middle of October.
High Tunnel Hoop Benders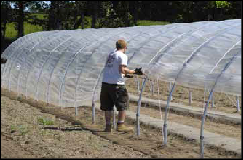 You can now create your own hoophouses at a much lower cost than pre-fabricated kits! You will be able to extend your growing season and increase both crop quality and yield by protecting your crops from wind, rain, hail, insects, and disease pressure.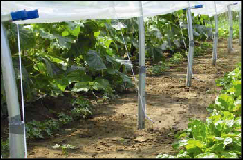 The advantages to protected cropping are numerous and you will on your way to more profitable crop production while saving a large amount of money compared to buying a tunnel. These would be great for growing tomatoes (no early or late blight!!) and cucumbers and other 'sensitive' crops.