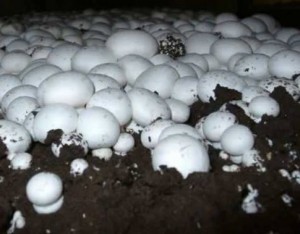 A new composting technology has been devised that can boost mushroom production by 20 percent to 30 percent while increasing revenues and reducing air pollution, the Council of Agriculture said Monday.
The indoor tunnel composting method not only turns agricultural waste such as rice straw and bagasse into useful compost but also reduces air pollution, said Tsai Jyh-rong, secretary-general of the council's Taiwan Agriculture Research Institute.
Local farmers burn some 1.3 million tons of waste straw every year, and "we can now turn that waste into gold," he told CNA.
In addition to rice straw and bagasse, Tsai said, the institute is also working on turning waste paper pulp into compost.
The method has been successfully applied to growing white, blewit, shaggy, Brazil and oyster mushrooms, Tsai said.
Chen Jin-tong, an assistant researcher at the institute, said the new method helps reduce by half the time and manpower needed to make compost of better quality, which also improves the competitiveness of the products.
Taiwan produces 140,000 tons of mushrooms each year, with an annual output value of NT$8.8 billion (US$294.64 million), according to the institute.